Ministry of Food Processing Industries in India
CREATION OF INFRASTRUCTURE FACILITIES FOR RUNNING DEGREE/DIPLOMA COURSES IN FOOD PROCESSING TECHNOLOGY UNDER NMFP
Ministry of Food Processing Industries (MFPI) has launched a new Centrally Sponsored Scheme (CSS) – National Mission on Food Processing (NMFP) during 12th Plan (2012-13) for implementation through States / UTs. The basic objective of NMFP is decentralization of implementation of Ministry's schemes, which will lead to substantial participation of State Governments / UTs. The NMFP contemplates establishment of a National Mission as well as corresponding Missions in the State and District level. NMFP is likely improve significantly the Ministry's outreach in terms of planning, supervision and monitoring of various schemes.
"In the Union Budget (2015-16) presented on 28.02.2015, Government of India (GOI) has announced the de-linking of NMFP from support from Central Govt. Accordingly, State Governments may decide to continue (or not) NMFP scheme out of their increased resources resulting from the recommendation of the 14th Finance Commission."
ENTREPRENEURSHIP DEVELOPMENT PROGRAMME (EDP) UNDER NMFP
Duration of Program :
6 weeks
Any Specific Socio Economic Group : SC/ST/Minority Community/Women-­Atleast 35%
Under the Entrepreneurship Development Programme (EDP)component of the Scheme farmers and prospective entrepreneurs/ unemployed youth are trained to sensitise them to the idea of value addition in food processing and to enable trainees to establish commercially viable enterprises in Agri. and Horticulture based food processing units. The trainees are selected on the basis of the interest shown by them for a regular four week EDP conducted at the block/ sub divisional/ district headquarters and a follow up.
The EDP have the following two components: (i) Four weeks EDP (ii) One year follow up program
TRAINING AT RECOGNISED NATIONAL/STATE LEVEL INSTITUTES
Duration of Program :
1-­10 working days
Any Specific Socio Economic Group : N.A.
(i) To impart specialized training to EDP trainees who are in the advanced stage of setting up their own food processing units including higher levels of training after periodic intervals.
(ii) To upgrade the knowledge / skill level of entrepreneurs who are already running their Food Processing units but are desirous to expand / modernize their unit.
Under this component, Grant is provided for Training at recognised institutes such as CFTRI/ DFRL /IICPT/ NIFTEM or any other reputed State / National level training institute of GOI or any other reputed State/ National level institutions selected by State Mission Directorate of NMFP.
DEGREE PROGRAMMES AND SHORT TERM COURSES OFFERED BY NATIONAL INSTITUTE OF FOOD TECHNOLOGY, ENTREPRENEURSHIP AND MANAGEMENT (NIFTEM)
Duration of Program :
1 day -1month (IICPT); 1­‐2 weeks (NIFTEM)
Any Specific Socio Economic Group : N.A.
The Indian Institute of Crop Processing Technology (Formerly Paddy Processing Research Centre) is a pioneer Research and Development Institute under the Ministry of Food Processing Industries, Government of India. The Institute has its origin way back in 1967 when it was started as R & D laboratory in the Modern Rice Mill complex of Thanjavur Co-operative Marketing Federation (TCMF) at Tiruvarur, Tamil Nadu, India under the dedicated leadership and the able guidance of late Dr. V. Subrahmanyan. an eminent scientist and founder Director, Central Food Technological Research Institute, Mysore. The mandate of the Institute at its inception was to seek solutions for preserving high moisture paddy because the paddy harvest season in Southern India coincided with the tail end of the South West monsoon.
The Institute was later upgraded as a national laboratory with the name Paddy Processing Research Centre (PPRC) in 1972. At the time of up-gradation the mandates of the Institute were also changed and the scientists in the Institute focused their research in identifying technologies for post harvest procession and preservation of paddy. The Institute was moved to it current location at Thanjavur in 1984. Considering the vital importance of strengthening R & D efforts in the post-harvest processing, preservation and value addition of raw agricultural produce, the Ministry of Food Processing Industries (MoFPI) strengthened and upgraded the PPRC as a National Institute in February 2008 and was called as Indian Institute of Crop Processing Technology (IICPT).
 ALL GOVERNMENT SCHEMES IN INDIA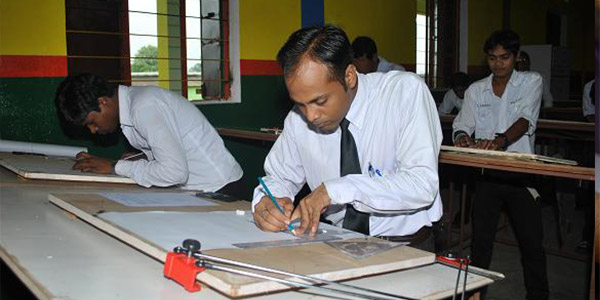 ITI In Architectural Assistant  Architectural Assistant Trade is a professional course which deals with a large spectrum of activities such as general administrative and specific tasks; prepare and develop architectural drawings; review the designs; support the architectural teams in producing the sections; manage the work packages given to sub consultants communicate with the client about …
Courses | Colleges | Careers | Jobs | Scholarship
Average rating:
0 reviews